STARS Partnership
STARS
STARS is a school partnership which is designed to provide opportunities for collaboration and the sharing of good practice which will result in the improvement of standards within a group of local schools. A raising achievement board has been set up within the collaboration to drive a continuous and consistent trust-wide focus to drive continuous school improvement.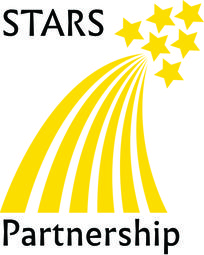 What does STARS mean?
S

- Strategic Planning

We aim to combine our forces to plan ahead to enhance our strengths and tackle
our weaknesses.

T

- Team

As a partnership we will work together and support and trust each other.

A

- Aspirational

We will not settle for good but will aspire for the best for all our pupils.

R

- Raising Standards

We will work together to improve the standards of pupils outcomes as well as
the teaching.

S

- Sharing Good Practice

Where this is capacity and strength we will share and support others in an atmosphere
of trust and mutual benefit.
STARS is a group of 5 local schools Byfleet Primary School, Kingfield Primary School, Maybury Primary School, St Mary's CofE Primary School and Westfield Primary School. The group will work alongside a Babcock Overview partner and other associate headteachers.
We work collaboratively on many policies and practices to provide high quality school improvement utilising the expertise's within our schools which include:
Heads, Deputy Headteacher, School Business Manager and Home School link work network meetings
School Development Plans priorities sharing
Monitoring and Peer Review and SEF reviews
Middle leadership development
Shared performance management policies linked to Performance Related Pay
Working parties for Curriculum and Assessment development including standardisation of assessment e.g. Reception baseline
Data analysis through the raising achievement board
Sharing good practice- we will have a good practice register which highlights excellence in particular areas including EAL, Maths, Literacy, EYFS
NQT training
INSET training and sharing statutory training days
Moderation from Nursery to Year 6
Curriculum leader network meetings
Shared PE provision including utilising skilled PE teachers
Recruitment and Employment